Meet Cory McGee FLR 16 Celebrity Guest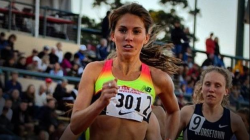 September 25, 2015
My advice for any younger athlete is to never hesitate to love what they do... be committed and surround yourself with people who love your passion.
By Todd Grasley, MileSplit
This year we are honored to have former Florida Gator and New Balance professional Cory McGee as our celebrity guest for the Flrunners.com Invitational 16.
McGee began her high school career in Mississippi where she was a TWENTY-TWO time state champion at Pass Christian High School. Following graduation she attended the University of Florida where she was an NCAA runner-up and five-time all American in the Mile!
She was 3rd in the 1500m at the USATF Outdoor Championships in 2013, 7th in 2014, and 11th in 2015. Following her time in the blue and orange in Gainesville in 2014, McGee signed a professional contract with New Balance. With personal bests of 4:06.67 for 1500m and 4:32.10 for the Mile we are delighted to have Cory with us this weekend.
Continue reading at: fl.milesplit.com