Meet the Elites Racing in the 2015 Oak City Mile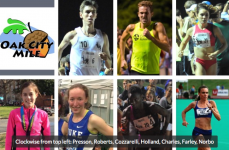 September 10, 2015
The Oak City Mile to host a 'Course Preview Run' tonight; this BBTM Featured Event takes place on Sunday, September 13 at 2:00 pm and also serves as the 2015 USATF NC 1 Mile Road Race Championship.
From Sir Walter Running
If you hadn't heard, "The Oak City Mile is continuing Downtown Raleigh's Road Mile tradition." The inaugural event will be held this Sunday, September 13th at 2pm. It will once again be held on Hillsborough Street. This time, you'll run the other direction. Want to see the course? Take a look here, or join us tonight at 6pm at Runologie at 401 Hillsborough Street at 6pm for a 'Course Preview Run,' where we'll hit the course, then run the 'Hopscotch Loop' Downtown, before returning back (with the option of doing another 'Oak City Mile' loop or two. Special race discounts will be available too! Sign up at OakCityMile.com
Also, we'll have some of the best runners in the state competing for the North Carolina USATF State Championship Sunday. Below are some of the athletes competing in the Open and Masters division. Would you like to compete yourself? Make sure your USATF membership is up to date (feel free to select Sir Walter Running as your club). Want complimentary entry? Send us an email with recent proof of a sub 4:25 Mile for Men and sub 5:15 for Women before Saturday!
2015 Oak City Mile Elite Field
Isaac Presson – Asheville – Men's Race
Isaac is a 3:58 miler and long time standout in the state of North Carolina. As a prep, he was a State Champion at Asheville High, and then an ACC Indoor Mile Champion at the University of North Carolina at Chapel Hill.
Continue reading at: sirwalterrunning.com