Meet the Miler: Coach Greg Bixel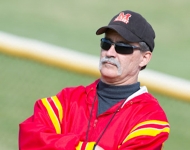 February 14, 2018
Growing up in Western PA, all my buddies wanted to be Terry Bradshaw (Pittsburgh Steelers QB). I wanted to be Marty Liquori!
By Bring Back the Mile
Our winner of the $500 for 500th U.S. Sub-4 Mile presented by Running Warehouse fan contest was Coach Greg Bixel of Pennsylvania. His guess of 3:58.77 turned out to be Emmanuel Bor's exact time and we were curious to know why he guessed 3:58.77 and his involvement in our sport of Track & Field. The ensuing interview illustrates just why the Mile and our sport is such an exciting one to be a part of all the way down to the youth level.
BBTM: What's your history as a Coach and where are you now?
Coach Bixel: I started coaching while I was still a senior in high school (more than 40 years ago), training my youngest brother for the Junior Olympics. Over the years I was constantly involved with youth programs as a coach, official and administrator. For the past 17 years, I served as the Head Boys & Girls Cross Country coach at Bishop McCort Catholic High School, working with student athletes grades 7 to 12 as well as 10 years as the Head Track & Field coach there. Then five years ago I became an assistant Track & Field coach at Pitt-Johnstown (local branch of the University of Pittsburgh) advising the middle & long distance runners as well as with recruiting.
What made you think about writing down 3:58.77 as your guess?
Being a track geek, I knew Don Bowden's time was 3:58.7. My thought was "wouldn't it be cool if the 500th happened to hit the same as the very first?" So I went with 3:58.7, plus threw the extra 7 on there for FAT!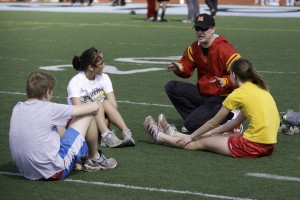 What do you love most about sport that has led to your 40-year involvement?
What I love most about Track & Field and Cross Country....well, a couple things. At the grass roots level, youth through high school, it's the idea that ANYONE can find a place to be an athlete. Obviously not everyone is going to be a State medalist or school record holder, but any boy or girl who is willing to TRY can develop a lifelong commitment to fitness and learning. And many of them will go on to become the coaches, officials and FANS who keep the sport alive in its most basic element.
At the elite level, the accessibility of the athletes is like no other professional sport. You can take your son or daughter to Millrose or Penn or Hayward and they can interact with the heroes of their sport in real time - not through some television fantasy.
What's your best coaching memory?
Hands down, was getting to coach my son in the State meet and then several years later having him there again with me as my assistant coach.
Did you have a Mile hero growing up?
My Mile hero growing up was Marty Liquori - I just thought he was such a badass! He was an amazing talent who wasn't afraid of racing ANYONE, but he also had a "style" like an entertainer. Growing up in Western PA, all my buddies wanted to be Terry Bradshaw (Pittsburgh Steelers QB). I wanted to be Marty Liquori!
What were your most memorable races as a fan?
I actually have two. First was Liquori beating Jim Ryun in the Dream Mile in Philly in 1971. The other was Sebastian Coe winning at the LA Olympics and then gesturing at the British press.
How about your most memorable Mile that you've watched in person?
This is probably not the answer you'd expect, but it was an age group track meet withabout a dozen boys in the 7-8 year age group. Every one of those kids took the lead at least once during the race. The entire pack was never more than a couple of seconds apart and it was basically a mass sprint finish off the final turn. Keep in mind that NONE of this was scripted or planned, these guys were just having a blast the whole time. THAT'S what youth sports in general needs more of.
Would you be willing to share your Mile PR?
My own mile PR is very modest; I always had more desire than talent. I've gotten inspired by Bring Back the Mile to step up my training though and I plan to run the GNC Live Well Liberty Mile in Pittsburgh this July. LONG LIVE THE MILE!!
Congratulations again, Coach Bixel, and thank you for sharing your Mile stories. Good training and we hope to see you at the 2018 GNC Live Well Liberty Mile.