NBC to Air Live Coverage of New Balance 5th Avenue Mile on Sunday, September 10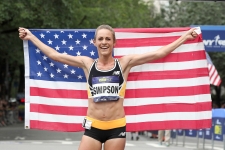 August 02, 2017
Broadcast to be presented in partnership with New York Road Runners and USA Track & Field; Olympic medalist and Team New Balance athlete Jenny Simpson to return in search of her record 6th event title!
NEW YORK – In partnership with New York Road Runners and USA Track & Field, NBC Sports Group will broadcast the 2017 New Balance 5th Avenue Mile live on NBC at 1:30pm ET on Sunday, September 10.
The 37th running of the world's most iconic road Mile will also be streamed via authentication on NBCSports.com and the NBC Sports App, as well as with a subscription to NBC Sports Gold's "Track & Field Pass," which live streams to desktops, tablets, mobile and connected devices. Content will be presented as part of the Olympic Channel: Home of Team USA partnership among NBCUniversal, the IOC and the USOC.
Stretching 20 blocks on famed 5th Avenue, the race is expected to draw 6,000 runners, including world class professional men's & women's fields highlighted by Olympic and World Championship medalists.
The New Balance 5th Avenue Mile will be comprised of 22 heats in total this year, including age group and specialty heats. The broadcast will feature live coverage of the men's and women's professional athlete races, led by defending women's champion Jenny Simpson, who has won the race a record five times, in addition to a recap of the rest of the day's heats.
"We are thrilled to partner with NBC Sports Group and USATF. Having the New Balance 5th Avenue Mile broadcast live nationally on NBC is a great opportunity to support the sport of running and is fantastic exposure for its professional athletes," said Peter Ciaccia, president of events for New York Road Runners and race director of the TCS New York City Marathon. "Many of the world's best athletes, led by the amazing five-time event champion Jenny Simpson, will join us this year as they use this race to close out the tremendous seasons they've had."
"The New Balance 5th Avenue Mile is one of New York City's iconic running events," USATF CEO Max Siegel said. "It truly unites Olympic medal winners with the dedicated, daily runners and racers who are inspired by them. USATF is proud to partner with New York Road Runners and to include the New Balance 5th Avenue Mile in our robust broadcasting portfolio with NBC Sports Group."
The New Balance 5th Avenue Mile defending women's champion, 2016 Olympic bronze medalist, 2011 world champion and Team New Balance athlete Jenny Simpson will return to New York City's most prestigious thoroughfare in search of her sixth title. Last year, Simpson took bronze in the 1500 meters at the 2016 Rio Olympics before becoming the first 5-time winner in the history of the 5th Avenue Mile.
"I'm excited to be returning to the New Balance Fifth Avenue Mile for the chance to claim a sixth victory," Simpson said. "It's an honor to win each time because it's never easily done. The simplicity of the race, a straight Mile, combined with the level of talent the event draws, makes it the most deserving road Mile in the world to be broadcast live on NBC. I am so grateful to NYRR and NBC for bringing the best of running to the widest audience possible."
The full New Balance 5th Avenue Mile professional athlete field and NBC broadcast talent will be announced later this summer.
For more information, go to: NYRR.org