Notre Dame's Aragon Sisters Join Family Legacy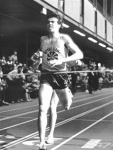 March 12, 2013
Father, Chuck Aragon, was the first Fighting Irish to break 4 minutes in the Mile.
By Dan Murphy, Blue & Gold Illustrated
Alexa and Danielle Aragon heard the kind of stories that many fathers like to tell their children as they head off to college. They heard about chickens showing up in the hallway and desks mysteriously falling out of bedroom windows. But their favorite story — the one about the giant banner stretched across the entrance of Morrissey Manor — is one that very few fathers get to tell.
The banner read: "Chuck Aragon, 3:59.9." It was 1981 and Aragon was a senior at Notre Dame. He had just returned to campus from a track meet at the University of Illinois where he set a school record as the first Irish athlete to ever run the Mile under the coveted 4-minute mark. The race, in which he outkicked future Olympian John Gregorek down the stretch, plays second fiddle in Aragon's memory to the reception he received back at his dorm.
"He always tells us the coolest experience he had was when he broke 4 minutes and they put up a sheet with 'sub-4 minute Mile' to celebrate with him," said Danielle, a freshman at Notre Dame.
Danielle joined her sister, Alexa, a junior, on the Irish cross country and track teams this year to carry on the family tradition of distance running in South Bend. Last weekend they caught up with their father as first-team All-Americans when their distance medley relay team finished seventh overall at the NCAA Indoor Championships. They ran the final two legs, 800 meters and 1600 meters, for the Irish team that finished in 11:01.49. Overall, ten different Notre Dame runners earned All-America status at the meet.
Continue reading at: www.247sports.com