Oklahoma on Broadway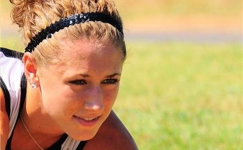 January 24, 2013
By Brett Hoover and Tim Fulton, Armory Track
When Regan Ward toes the line in the New Balance Games high school Mile on Saturday, she might not want to look up. After all, there will be more people looking back down at her than live in her entire hometown of Beggs, Okla. (pop. 1,321).
But for Ward, this trip to the Big Apple with a shot at a Millrose Games' slot is worth the trip. "If I am able to qualify for the Millrose Games it would be a dream come true for me," said the seven-time Oklahoma state champion. "This race will be one I will be talking about for years to come."
Since the Millrose high school Miles transitioned from an invitational event to series of qualifying opportunities, Ward has set a record for the furthest trip to end with a shot at Millrose.
Continue reading at: armorytrack.com