Olympian, Mile legend and coach Laszlo Tabori dies at 86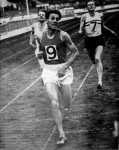 May 24, 2018
In 2002, Tabori received the Fair Play Award from the International Olympic Committee for lifetime achievement and outstanding contribution to the sport.
By Beth Harris, AP Sports Writer
LOS ANGELES (AP) — Laszlo Tabori, who in 1955 became the third man to break the 4 minute barrier in the Mile and later coached distance runners at the University of Southern California, died Wednesday, May 23. He was 86.
The school said the Hungarian-born Tabori died at Cedars-Sinai Medical Center in Los Angeles. No cause was given.
Tabori joined Roger Bannister and John Landy as the only men to break the 4 minute barrier. He did so with a time of 3 minutes, 59 seconds, on May 28, 1955. That same year, Tabori held the 1500 meter world record with a time of 3:40.8. He was also a member of the world record-setting Hungarian team in the 4-x-1500 relay.
Tabori finished fourth in the 1500m and sixth in the 5000m at the 1956 Melbourne Olympics.
After the Summer Games, he and his coach Mihaly Igloi defected to the U.S. and eventually settled in Los Angeles. Tabori stayed in shape for many years and would have been a medal contender at the 1960 Rome Olympics, but he could no longer run for Hungary and wasn't yet a U.S. citizen. He retired from running two years later.
Tabori, born July 6, 1931, in Kosice, Hungary, returned to the sport as a coach in 1967, employing methods he learned from Igloi. Tabori was a proponent of interval training and was the longtime coach of the San Fernando Valley Track Club.
Continue reading at: thedailytimes.com
PHOTO BELOW: At White City Stadium, London, Roger Bannister (left), the first sub-4 minute man, congratulates Tabori after his first sub-4 and the third man overall.