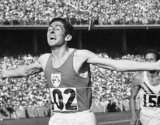 January 20, 2020
His gold at the 1956 Melbourne Olympics changed the way the world looked at Ireland.
By Garry Doyle, The 42
It was just a name; seven little letters, carved into stone yet etched into history. The tourist stood and stared at it, a couple of minutes passing before the chill of a Victorian...
Read More
comments