The Don Bowden Interview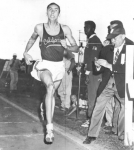 April 06, 2017
I admire what Ryan Lamppa and 'Bring Back the Mile' are doing... We should definitely bring back the Mile and there is some impetus which would surely help track & field in this country.
By Gary Cohen, GaryCohenRunning.com
Don Bowden is the first American to run a sub-4:00 Mile which he did on June 1, 1957 when he ran 3:58.7 at the Pacific Association AAU meet. The trailblazer was just 20 years old and was the youngest to date to run a Mile in under 4 minutes. He represented the United States in the 1956 Melbourne Olympics at 1500 meters after finishing in third place at the 1956 U.S. Olympic Trials. Bowden raced collegiately for the University of California - Berkeley where he was NCAA champion in 1957 at 880 yards in 1:47.2, helping Cal to a runner-up team finish. He was fourth in the Mile at NCAAs in 1958. Don and his collegiate teammates set World Records in both the 2-Mile relay and sprint medley relay. He was Pacific Coast Conference Champion in the 880 in 1957 and in the Mile in 1958. Bowden set Cal – Berkeley school records in the 880, 1500, Mile, 2-Mile relay, sprint medley relay and distance medley relay.
At Abraham Lincoln High School in San Jose, California, he was student body president and won the state 880 title in 1953 and 1954, setting a high school World Record of 1:52.3 his senior year. His personal best times include: 400 meters – 47.9; 880 yards – 1:47.2; 1500m - 3:46.5 and Mile - 3:58.7. After college Don helped develop the Tartan track, the first artificial running surface. He was inducted into the USA Track & Field Hall of Fame in 2008 and the USATF's Pacific Association HoF in 2014. Don resides in Saratoga, California with Betsy, his wife of nine years, and their two Great Pyrenees dogs, Susie and Bodie. He was gracious to spend nearly 90 minutes on the telephone in February 2017.
Continue reading at: www.garycohenrunning.com