The Don Bowden Interview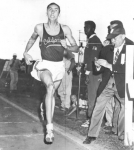 April 06, 2017
I admire what Ryan Lamppa and 'Bring Back the Mile' are doing... We should definitely bring back the Mile and there is some impetus which would surely help track & field in this country.
By Gary Cohen, GaryCohenRunning.com
Don Bowden is the first American to run a sub-4 minute Mile which he did on June 1, 1957 when he ran 3:58.7 at the Pacific Association AAU meet. The trailblazer was just 20 years old and was the youngest to date to run a Mile in under 4 minutes. He represented the United States in the 1956 Melbourne Olympics at 1500 meters after finishing in third place at the 1956 U.S. Olympic Trials. Bowden raced collegiately for the University of California - Berkeley where he was NCAA champion in 1957 at 880 yards in 1:47.2, helping Cal to a runner-up team finish. He was fourth in the Mile at NCAAs in 1958. Don and his collegiate teammates set World Records in both the 2-Mile relay and sprint medley relay. He was Pacific Coast Conference Champion in the 880 in 1957 and in the Mile in 1958. Bowden set Cal – Berkeley school records in the 880, 1500, Mile, 2-Mile relay, sprint medley relay and distance medley relay.
At Abraham Lincoln High School in San Jose, California, he was student body president and won the state 880 title in 1953 and 1954, setting a high school World Record of 1:52.3 his senior year. His personal best times include: 400 meters – 47.9; 880 yards – 1:47.2; 1500m - 3:46.5 and Mile - 3:58.7. After college Don helped develop the Tartan track, the first artificial running surface. He was inducted into the USA Track & Field Hall of Fame in 2008 and the USATF's Pacific Association HoF in 2014. Don resides in Saratoga, California with Betsy, his wife of nine years, and their two Great Pyrenees dogs, Susie & Bodie. He was gracious to spend nearly 90 minutes on the telephone in February 2017.
GCR: Many athletes are known for championships, World Records or gold medals, but only one, and that's you, can say he is the first American to run a sub-4 minute Mile. Now, nearly 60 years later, how does it feel to be that man?
DB: I was quite fortunate to be in the right place at the right time with some great coaching and good genetics. It was a real honor for me and I'm thankful for that opportunity that I had that day in June of 1957.
GCR: It was three years after Roger Bannister broke the Mile's 4 minute barrier, and about a dozen runners had broken 4 minutes but no American had done so. How strong was the impetus to be the first American, especially since there were several capable runners? Was it discussed and did you know of several runners who were taking aim on being the first?
DB: Obviously, the person that should have done it first was Wes Santee. I watched him run 4:02 at Compton and then he ran 4 flat point four or five. After Bannister ran his race, Wes was down in the 4 flat point something range more than once so he was the main person that I thought would run under 4 minutes. In 1954 when Bannister ran under 4 minutes, I was still in high school and really was running the half mile and not the Mile. So running under 4 minutes was out of my bailey wick. Bob Seamen from UCLA was a real good runner who could have challenged 4 minutes and there were one or two other guys. Someone had to do it, but I wasn't so sure it was going to be me. I was a half-miler and the half mile was my race so I was really stepping up to run the Mile. That wasn't my primary event.
GCR: Since you were primarily a half-miler, what did you do in training leading up to that race which had you ready both mentally and physically to run sub-4 minutes?
DB: It really goes back to the year before in 1956. That was the Olympic year and I barely made the team in the 1500 meters. I ran that because the 800 meters was so loaded with Tom Courtney, Artie Sowell and my teammate Lon Spurrier. That was very difficult because I had had a few injuries that year. The 1500 meters looked like my best chance to make the Olympic team and I was very fortunate to barely out lean Fred Dwyer at the tape to make third place and the team. The thing was, the Olympics were in Melbourne and I was in school at Cal and my father was pretty strict about athletics. He wanted me to go to school, learn, and get good grades and graduate. If I could fit in athletics then that was fine too. In those days many students would go on and on and on, but he told me he wanted me to graduate with my class and I said, 'Yes, sir.' The Olympics were in October and November because the seasons are different in Australia so I had to drop out of the fall semester at Cal. In order to keep up with my class I went to double summer sessions and I was doing all of this training for the Olympics. As a result of going to school, training strong and flying around to meets to compete every weekend somewhere, I ended up getting mononucleosis. That slowed me down and I was just coming out of it around the time for the Olympics. But I couldn't beat anyone at the Olympics because with world class competition you have to be at your best.
GCR: So your 1956 Olympic push just carried over into 1957 at the longer distance?
DB: I had done all of this training up to the Olympics and continued after the Olympics which gave me a really strong base going into 1957. As far as the Mile, I had run some pretty good Mile races that year. I think I had run 4:04 or 4:05, something like that. But I think the key race was at the Fresno Relays when we had a distance medley team and we were running against the L.A. Striders and I anchored with the Mile. Jerome Walters, who had won the 1956 Olympic Trials at 1500 meters, was the anchor man for the Striders. We ran stride-for-stride and then coming to the end about 30 or 40 yards before the finish I thought, 'Don, if you don't let up you're going to go right on your face.' So I let up a little bit, but I ran maybe a little bit over 4 minutes that night and he did too. That was with a running start in a relay, but it showed my capabilities. The other event that happened was that Tom Courtney, who had won the 800 meters in the Melbourne Olympics, came out to train with me a bit at he was going to race at Fresno and Modesto. So we were working out at Berkeley and we were running 1320 yards in 3 minutes and Courtney announced that he could run a Mile in under 4 minutes. In my opinion, Tom Courtney was a great athlete, but he was a big, strong muscular guy. He didn't have the build and the physical stature that most Milers have. He was so big and strong – a Peter Snell type of guy. I think that he had the strength, but it's tough to carry that over a Mile. So I went to my coach, Brutus Hamilton, and told him 'Courtney says he can run 4 minutes, but I was right with him on that 1320, so maybe we should start thinking about that.' Brutus said, 'Okay. I think you can do it, especially after that relay race at the Fresno Relays. So that's what we started pointing our training toward. We knew that the meet in Stockton was going to be the only opportunity I was going to have to run the Mile again that year because all of the rest of my planned races that year were geared around the half mile.
Continue reading at: garycohenrunning.com