Pair of former champs win Liberty Mile in record time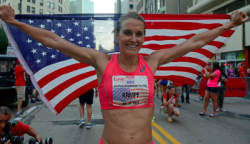 August 01, 2015
A total of 1500 runners participated in the race, which included a wave for all ages and abilities plus several competitive heats, including the masters and Unstoppable heats in addition to the pro heats.
By Karen Price, Trib Live
Neither Jordan McNamara nor Heather Kampf are from Pittsburgh, but after four years of running in the GNC Live Well Liberty Mile road race downtown, they have come to regard the city as an adopted hometown.
On Friday night, both former champions were victorious once more in their home away from home with McNamara, 28, defending his title with a time of 3 minutes, 58.50 seconds, and Kampf, 28, winning for the third time in four years and taking the crown back from second-place finisher Gabriele Grunewald.
Kampf finished in 4:32.59, tying her own course record set in 2013, and McNamara tied the men's course record set by Craig Miller in 2012.
"With 400 meters to go, I knew I was going to win," said McNamara, who is from Auburn, Wash., and trains with the Oregon Track Club. "The way the race played out, I could see the guys, and I knew how good I felt. I knew I had three more gears to go, one with 200 to go, one with 100 to go and one for the last 50 if I really needed it. At that point, I was just having fun, looking at the finish line and trying to time it right."
Continue reading at: triblive.com