Peter Snell: Gentleman, Athlete, Scholar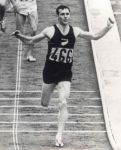 January 24, 2012
Renowned coach Arthur Lydiard's formula for distance running success: preparation, patience and performance
By Jim Ferstle for Running Times
To track fans, Peter Snell is a legendary triple Olympic gold medalist, who set the Mile world record twice. To his native New Zealanders, he's Sir Peter Snell, OBE. In the academic community he's Dr. Snell, Ph.D., director of the Human Performance Laboratory at UT Southwestern Medical Center in his hometown of Dallas, Texas. He's co-written three books – one on his running career, another on the mix of science and sport, and the third, titled Use It or Lose It, on adult fitness. At 73-years-old, he's put on a few pounds, takes a few more naps, but shows few signs of any desire to rest on his laurels.
Why should a middle-distance runner be doing 22-mile runs? Why is rest and recuperation important? What role does a coach play in a runner's development? What's more important to an athlete, psychology or physiology? Snell's search for answers to these questions has taken much longer than his rather brief athletic career, but the trip has been equally, if not more satisfying for the boy from Opunake, New Zealand, who burst onto the Olympic stage with a surprise gold medal in the 800m in the 1960 Rome Olympics.
"I grew up in a sporting family," says Snell of his athletic roots. His mother played tennis, his father golf. Solidly built and muscular, Snell began his athletic career in "ball games" – rugby, cricket, golf and tennis. He was most successful at tennis, where he won school championships, but also had early indications that he had talent in running. Despite doing only occasional runs and some cycling, he was able to win or place in school competitions.
"I liked being successful," Snell says of his school sports career. "If you're good at something, it's motivating. You do certain sports because of the recognition factor."
Continue reading at: www.runningtimes.com