Q&A: Steve Scott Talks the Mile, Carlsbad 5000 and Coaching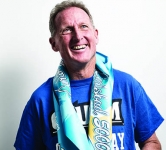 March 05, 2015
No matter how many people run under 4 minutes, when you do it your first time it's something special.
By Adam Elder, Competitor.com
Steve Scott is one of America's greatest middle-distance runners of all-time, having posted three outdoor U.S. Mile records, a World Championship silver medal, two Olympic appearances and a record 137 sub-4 Miles in a career that spanned nearly 20 years. (His 3:47.69 in 1982 was the second-fastest Mile ever run and stood as the U.S. record for 25 years.) The prolific, fiercely competitive racer also founded the Carlsbad 5000, which celebrates its 30th year on Sunday, March 29. We caught up with Scott, 58, who's now the track coach at California State University, San Marcos, and is on the home stretch of treatment for prostate cancer.
What makes the Carlsbad 5000 so special—and fast?
Besides running along the Pacific Ocean, it's got a nice fast first Mile, and you have a lot of fast people there. And it's spectator-friendly. Most races everybody starts together, and when the elite racers finish, no one's there watching them because everybody is still out running. Here everybody else runs, then you watch the elite runners. The course isn't the fastest course around with the two U-turns, but because everybody's watching and the competition is very good, people expect to run fast.
What is it like to run a sub-4 Mile?
Continue reading at: running.competitor.com