Quigley Upsets Houlihan for USA Indoor Mile Title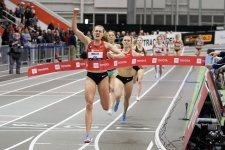 February 23, 2019
"My tactic was not to wait until the last 100 as I didn't stand a chance."
By LetsRun.com
NEW YORK — What a way to win your first national title.
Shelby Houlihan has spent the past two years destroying anyone who dared cross her path at a national championship, winning eight straight titles at distances that range from the 1500 meters all the way up to 10K cross country. With 3:57 1500 speed, an American record in the 5000 meters, and the strength to hang with (and beat) long-distance stars like Molly Huddle in XC, there didn't seem to be any way to beat the 26-year-old Houlihan in the Mile final at the 2019 Toyota USATF Indoor Championships on Saturday evening.
But Colleen Quigley found one, gritting her teeth through a brilliant 60.09 final 400 meters to take down her Bowerman Track Club teammate and win her first USA title in style, clocking 4:29.47. It was sweet release for Quigley, who emulated another BTC teammate in screaming "F**k yes!" as she broke the tape, as well as a measure of revenge after finishing second to Houlihan at this meet in each of the past two years. In a training group in which seven other women have either a World / Olympic medal or a national title, Quigley has her own national crown to add to the pile.
Quigley only made one move, taking the lead with 500 to go and beginning her long drive to the finish from there. She dropped the pace from 34s and 35s to 31.09 for the penultimate lap, but with 200 meters to go and Houlihan lying in wait a meter and a half behind her, you couldn't help but think: we've seen this one before.
But Quigley had other plans as the Floridan State grad floored the accelerator and… was this? …yes! The Rio Olympian was actually increasing the gap back to Houlihan on the backstretch, her BTC teammate powerless to respond. Houlihan was all-out by the final turn, but Quigley was too good for her on this day, running her last lap in 29.00 to earn the victory. Houlihan was resigned to runner-up in 4:29.92, with Cory McGee third in 4:30.14.
Continue reading at: letsrun.com