Rancho Cucamonga celebrates Rio Olympian Brenda Martinez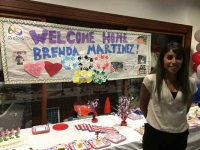 October 22, 2016
"You are a shining example of what our community represents; you — and your parents — are to be commended for your contributions and reaching for your dreams."
By Liset Márquez, Inland Valley Daily Bulletin
RANCHO CUCAMONGA -- Olympic athlete Brenda Martinez is often asked one question when she competes across the country.
What's the name of her hometown?
"I take a lot of pride in where I come from and a lot of times people think I'm making up the name of Rancho Cucamonga," Martinez recently said while being recognized by the city.
Martinez, had a disappointing finish in the 2016 Olympics in Rio de Janeiro semifinal of the 1500 meters.
The Rancho Cucamonga City Council presented Martinez with a certificate of recognition during Wednesday's council meeting.
"Growing up in our community, we are truly proud of you and recognize your family for the support and sense of community pride they instilled in you," said Councilman Sam Spagnolo, who acknowledged he was star-struck being in the presence of an Olympic star.
Continue reading at: www.dailybulletin.com