Right place at right time for Portsmouth photographer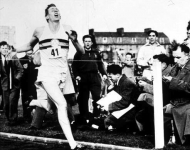 June 14, 2014
It appears all three men took photographs as Bannister neared the tape, but Norman Potter's iconic photograph was the one chosen to make history.
By Bob Hind, The News
On May 5, 1954, a 25-year-old athlete went to bed unknown. The next night he was world-famous having become the first man to run a Mile in less than four minutes.
Medical student Roger Bannister broke the tape at the Iffley Road, Oxford, track in 3 minutes, 59.4 seconds.
The crowd of just 3,000 went crazy when they heard the record time announced and that Bannister had just become the fastest man on earth over the distance.
Today the event would be covered by myriad cameras, but 60 years ago there was just one press photographer in the right place at the right time. It was the same man who had at one time placed Frank Sinatra in a headlock on the floor of a London cinema after he'd attacked a fellow photographer.
The man behind the camera? Step forward Norman Potter, who now lives in retirement at Eastney, Portsmouth.
Continue reading at: www.portsmouth.co.uk