Russell Brown proves he's on the right track for the Olympic Trials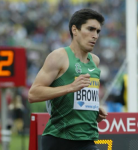 June 14, 2012
Russell Brown takes aim at the Olympic Trials 1,500
By Ron Bellamy, The Register-Guard
EUGENE, Ore. - A couple of years ago, Russell Brown put on a running clinic for the kids at Jasper Mountain, a school and treatment center for emotionally disturbed children south of Springfield.
Inspired by the work done there, touched by the youngsters, the Oregon Track Club Elite runner became a member of the volunteer board of directors last year, eventually chairing a budget sub-committee and participating in a program evaluation project.
"I've been very impressed with him as an individual," said Dave Ziegler, the founder and executive director of Jasper Mountain. "He's very smart. He is incredibly committed; whatever he takes on, he has a singular focus.
"He really does not stand for anything short of excellence. That's kind of a lifestyle for him."
Continue reading at registerguard.com