Sir Roger Bannister inspires the next generation at Reading Year of Culture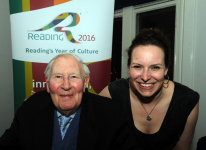 January 21, 2016
The British athletics legend shares stories of his sporting feats and his desire for running.
By Francesca Perryman, Get Reading
Budding athletes and fans gathered at the Town Hall in Reading last night to hear Sir Roger Bannister as part of the Year of Culture.
The venue in Blagrave Street in Reading town centre was packed out with people eagerly awaiting to hear about the British athletics legend's sporting careers and feats.
Interviewed by sports presenter, Steve Rider, Sir Roger looked back at his own personal achievements, how it all began, and how he set the bar in the 50s for the golden age of athletics.
Discussing how he first got into running, Sir Roger said: "I was bullied at school by the Bath boys after being evacuated from London and my games master said to me, rather than rough play, fight it out in the gym and that's where I decided to start getting fit; that was how I made my mark at the school."
Continue reading at: www.getreading.co.uk