Sir Walter Miler heads to the finish line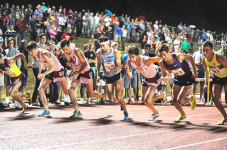 August 27, 2015
The summer Mile event celebrates the emerging athlete while also bringing together the Raleigh community.
By Noah Ross, The Technician
In 1954, Roger Bannister did what most runners believed to be impossible. He became the first man to ever break the elusive barrier of the 4-minute Mile. Sixty-one years later, NC State alumnus Sandy Roberts is helping budding runners match Bannister's accomplishment while also building a stronger Raleigh community.
Robert's collegiate running career ended at NC State in 2012, but Roberts was not ready to hang up his track shoes. During his collegiate career, Roberts had run the Mile with times just mere seconds over the coveted sub-4 minute mark. Roberts found himself as an emerging athlete, in between the status of a very good runner and an elite runner with sponsors.
"I was frustrated because I couldn't get into major track meets because I was an emerging runner," Roberts said. "So I decided to hold my own meet."
Continue reading at: www.technicianonline.com