Staten Island claims Rio Olympics-bound Robby Andrews as own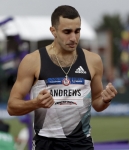 July 22, 2016
He was born here… as a pre-teen Andrews also spent plenty of summer hours literally running around Susan Wagner and New Dorp High Schools while his dad was one of the directors of the Big Apple Games.
By Cormac Gordon, SIlive.com
Robby Andrews is going to the Rio Olympics.
The 25-year-old one-time University of Virginia NCAA champion sealed that honor after qualifying for Team USA at the U.S. Olympic Trials in Eugene, Ore. on Sunday, July 10.
Andrews ran a blistering 1500 meter time of 3:34.88 for a runner-up finish to Matthew Centrowitz at storied Hayward Field.
Both runners shattered the previous Trials record.
So Andrews is officially in, ready to head to Houston at the end of the month for some last-minute training, and then on to Rio.
And we've decided Staten Island is going with him.
Sort of.
He's our guy, our native son and top rooting interest.
Continue reading at: www.silive.com/sports