The Mile Bridges Partisan Divide as Rival Super PACs Partner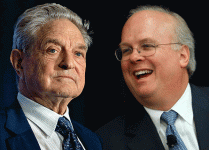 April 01, 2013
George Soros, Karl Rove find common ground with $1 million pledge to Bring Back the Mile and to bring America together
NEW YORK – (April 1, 2013) – Forget the sequester, the big news out of Washington, DC is an unprecedented partnership between political opposites George Soros and Karl Rove and their respective Super PACs to support that American of institutions: The Mile.
According to MSNBC and Fox News reports, Soros and Rove have agreed to use $1 million of their combined Super PAC funds – Priorities USA Action and American Crossroads, respectively – to help the Bring Back the Mile national campaign. BBTM was launched in January 2012 to elevate and celebrate the iconic distance and to replace the 1600 meters with the Mile at U.S. high school meets.
"Karl and I don't agree on many political, economic and social issues, but we do strongly agree that the Mile is as American as apple pie and the 4th of July, and collectively, we want to help bring back the Mile, particularly at the high school level," said George Soros (left above), a noted and politically active liberal billionaire. "I have fond memories of when Roger Bannister became the first man to break the mystical 4 minute barrier in 1954 and later how that inspired fellow Hungarian, Laszlo Tabori, to become the third man to go sub-4 in 1955."

"Americans 'get' the Mile, and it is a shame that, except for Massachusetts and at select elite meets, U.S. high schoolers don't run the Mile. Jim Ryun, a Mile legend, was one of my boyhood heroes, and I dare say that it is un-American to run the 1600 meters in this country," said Karl Rove (right above), a conservative political consultant and advisor. "America right now has the best Milers in the world including fellow Texan and Olympic silver medalist Leo Manzano, and George and I agree that our young people and our country deserve better, and thus, we have pledged $1 million to support the Bring Back the Mile campaign."
A provision in the law allows Super PACs to provide funding "for mutually agreed common good", and Rove and Soros are confident that their financial contribution will hold up in court if challenged. The majority of their pledge will go to lobbying national and state high school federations to drop the 1600 meters for the Mile and to partnering with the First Lady Michelle Obama's Let's Move initiative.
"We are thunderstruck by this unexpected, but wonderful news, and we thank George Soros and Karl Rove for their generous support and collective vision. Perhaps, by bringing back the Mile, this country can become more united on other national issues too," said Ryan Lamppa, Bring Back the Mile founder. "Our BBTM team looks forward to working with George and Karl. Go Mile, America's distance!"
For more BBTM information, go to: bringbackthemile.com