The Mile, Franklin Park-Style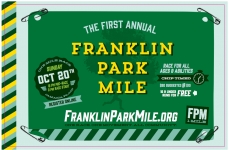 November 10, 2013
"Running is possibly the greatest metaphor for life."
By Owen Kendall, Race Founder
The goal of the Franklin Park Mile is bigger than you can imagine. The aim is to transform the world, changing the way people experience their lives. The world today is a global one; it is a multi-racial, multi-ethnic, multi-linguistic, multi-gender mosaic with more connectivity than anyone ever imagined possible. And though community is sometimes forgotten with the possibility of faraway connections, it is essential for everyone. A strong community can produce wellness in a way that almost nothing else can and yet many people are becoming less and less connected to those around them.
The Franklin Park Mile's role is to raise awareness for community running and community development through running that a new movement of free community running is making a reality. Free community running supports the natural development of communities that revolve around common activities, supporting a population that is both empowered and capable of empowering those around them.
In its first year, the Franklin Park Mile drew well more than 200 people to an incredible day in Franklin Park. Many of them had never raced before, while others were winners of prestigious races, and yet it appeared that every person walked away from the event with a bit more bounce in their step and a feeling that the Franklin Park Mile was onto something.
Continue reading at: www.levelrenner.com