The Year of Leer?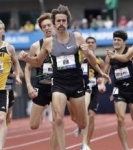 July 16, 2013
More miles, more mustache and more maturity are leading Will Leer to impressive results
By Sarah Barker, Running Times
Is it the six weeks at altitude? Is it the introduction of 100-mile weeks? Is it simply maturity? Could it be that training solo better suits his style? Or is Will Leer's 2013 tear really some sort of calculus of freak flag plus 'stache? Probably a bit of everything, the Los Angeles-based runner says.
"Living and training by myself is a testament to how I've grown as an athlete," Leer says, while spending a few months in Flagstaff, Ariz., during the early spring. "When you're in a group and don't feel like running, your teammates pull you through. I don't have that luxury anymore. It takes a good amount of discipline, but I know how to get it done by myself. And I think I pay more attention to what I'm doing."
The results turned some heads early in the season and left his fans hopeful that he'll finally break through to the World Championships this summer. Although that didn't happen, Leer did collect a double win in December at the USA Indoor Championships in the 3000m (8:07.84) and the Mile (3:58.79). Then he ran to fourth place and first American at the Carlsbad 5000 in 13:36. He won the 5000m at the Mt. SAC Relays in a personal best of 13:21, then hit the Oxy High Performance Meet in May, besting a stacked 1500m heat to finish in 3:36.67. (He ultimately placed third.)
Since graduating from Pomona College in 2007, Leer has taken a circuitous route through Oregon Track Club Elite, his home for more than three years, to Ann Arbor, Mich., with coach Ron Warhurst, and back to sunny Southern California, where the tight-knit Leer clan has convened as Will's dad undergoes cancer treatment.
Continue reading at: www.runnersworld.com