Train for Your Fastest Mile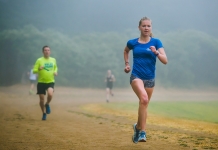 June 13, 2017
Cram your way to a PR this month with workouts from Coach David Roche.
By David Roche, Strava Stories
Running can be a solitary activity. No one can run for you. You have to lace up your shoes and get out the door all on your own.
But when you run the Mile, even when you run solo, you're running alongside countless others that have given the Mile a shot before you. From Roger Bannister to a third-grader in gym class, the Mile is something that we all share.
The Strava Mile adds more camaraderie to the mix. This month, go out and run a Mile as fast as you can and you'll be running in a group of thousands all over the globe doing the same thing. In #MyMile, you don't need a track or a race. You just need a watch and a goal.
And here's the best part—by running the Mile, you can get stronger and faster than ever, while having fun doing it.
Continue reading at: www.strava.com