UO runner Trevor Dunbar will attempt to crack 4 minutes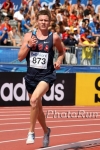 July 06, 2013
Alaska native after first sub-4 Mile for his home state on Monday, July 15 at Roughrider Twilight in Portland
By Ken Goe, The Oregonian
The University of Oregon's Trevor Dunbar will be attempting a sub-4 minute Mile on Monday, July 15 at Portland's Roosevelt High School in the Roughrider Twilight.
Dunbar has made several attempts to become the first Alaskan to break the coveted 4 minute barrier for the distance made iconic by Roger Bannister in 1954. His father, Marcus Dunbar, also an Oregon Miler, holds the state record of 4:00.58, set in 1993.
Dunbar appears primed this time, after missing the 2013 college outdoor season with injury problems. He ran a swift 1500 yesterday at the Victoria International Track Classic, finishing second in 3 minutes, 38.38 seconds.
The Roughrider Twilight -- which has been set up around a bid by Nike Oregon Project runners Jordan Hasay and Tara Erdmann to hit qualifying standards for the IAAF World Championships in the 10,000 -- is a homecoming of sorts for Dunbar. He began his college career at the University of Portland, just a stones throw from Roosevelt.
More Mile news
2008 Olympian Ian Dobson is behind the innovative, inaugural Track Town City Center Mile, which will take place in Eugene on July 21.
Continue reading at: www.oregonlive.com