West Lafayette HS cross country success started with one Mile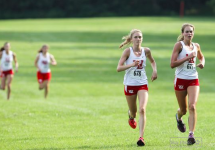 August 24, 2015
Coach Custer is an advocate for having children begin running the Mile in the fourth grade to show that running can be fun. "For the most part, they are pretty prepared when they get to high school."
By Sam King, JC Online
West Lafayette's epic rise to becoming the best distance running program in the state started in grade school gym class.
What the Red Devils have accomplished in recent years can be traced back to Lane Custer having fourth, fifth and sixth graders at Happy Hollow Elementary compete in a Mile.
Custer has done that for about a quarter century and it was the start of what's become five straight podium finish for West Lafayette's girls cross country team at the state meet and last year's boys cross country state championship team.
Continue reading at: jconline.com