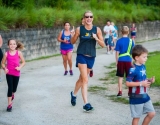 September 14, 2018
Since 2010, the run / walk program, founded by Fitz Koehler, has spread to hundreds of schools in nearly two dozen states.
By Jacob Meschke, Runner's World
Ashley Hamilton of Gainesville, Florida is only in sixth grade, but she already has a national championship to her name. In July,...
Read More
comments