The Morning Mile Gets Kids Running Before School—and Loving It!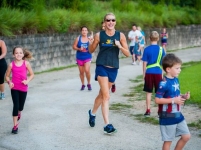 September 14, 2018
Since 2010, the run / walk program, founded by Fitz Koehler, has spread to hundreds of schools in nearly two dozen states.
By Jacob Meschke, Runner's World
Ashley Hamilton of Gainesville, Florida is only in sixth grade, but she already has a national championship to her name. In July, Hamilton won the girls 11-year-old 3000 meters at the AAU Club National Championships in Orlando, and placed in two other events.
Now a serious runner with the Gainesville Striders track club, Hamilton got her start in running through the Morning Mile program at her elementary school.
Named for its slick alliteration, The Morning Mile (TMM) really has nothing to do with the one Mile distance. It's more about just getting moving: For 30 minutes before school, students run or walk laps around a track or other course, and earn rewards for their accomplishments.
It's not the first program of its kind, but due to the tireless efforts of its founder, Fitz Koehler, and a streamlined best practices approach, it's immensely popular in hundreds of schools and spreading rapidly.
Koehler has been a fitness guru since the early 1990s, chiefly through her own company Fitzness. In 2010, Koehler heard about a school run / walk program at a Gainesville school near where her children attended, and went to check it out.
"I wish my kids could do that," Koehler remembers thinking. "Oh my gosh, I wish all kids could do that!" And TMM was born.
Continue reading at: runnersworld.com
Inspired by the Morning Milers? The Big Book of Running for Beginners will take you through everything you need to know to get started, step-by-step.