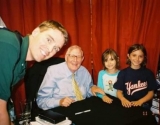 January 08, 2019
Our moment with Sir Roger was just as inspiring. Greeting my daughters and asking them their names and how old they were was just the beginning of a grand few minutes.
By Jeff Benjamin, RunBlogRun
I was running late.
Leaving my teaching job on Staten Island to travel to New York City during...
Read More
comments