Jim Spivey-Alive & Kickin'-20th Anniversary-Olympic Trials 1500m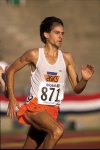 July 08, 2012
With 200 meters to go, I want you tonight, to visualize people breaking into your house - and their names are Steve Scott, Joe Falcon, Terrance Herrington. What are you going to do? Are you going to let them come into your house, and steal everything? This is yours to be defended. Defend your house.
By Jeff Benjamin, Run Blog Run, note by Larry Eder
NOTE: Jim Spivey was one of the few American middle distance runners who duked it out with the Europeans, Africans on the global stage in the late 1980s and 1990s. First coached by Sam Bell, the iconic coach at Indiana, Spivey was then coached by Ken Popejoy and Mike Durkin. Durkin was, and is still, one of my idols. A midwest guy with a killer finish, he came up with the term, " controlled aggression". Popejoy, a top runner, also UCTC, was a stud Masters runner as well as a superb coach.
The 1988 U.S. Olympic Trials were a heart brake for Spivey, where he finished fourth. I was in the stands in 1992, and his win was just crazy train. Spivey dropped a 56 third lap and showed more guts in that last 700 meters than anyone I had ever seen in such a race. His emotions were real afterwards, he could not believe it!
Looking back twenty years later, the 1992 U..S. Olympic Trials 1500 race was pivotal for Jim Spivey. One of America's top Milers since the early 1980s, the 32-year-old Spivey had endured both ups-and-downs at previous Olympic Trials. As the '92 race went off before a packed crowd in the heat and humidity of New Orleans, Spivey faced the likes of Steve Scott, Joe Falcon, Terrance Herrington, Steve Holman, Charles Marsala and, most importantly, himself.
In 1984, Jim Spivey came out of the NCAA world (Where he won 2 NCAA titles and was a 13 time All-American running for Indiana under legendary coach Sam Bell) to dramatically win the Los Angeles Olympic Trials, besting both Scott and Sydney Maree. Spivey also finished 5th in the LA Games, behind his idol Sebastian Coe, establishing himself as America's future Miler. The soft-spoken, yet intense mid-westerner then completed banner seasons over the next 4 years, winning USATF (known as TAC back then) Championships and consistently running between 3 minutes, 49 seconds--3 minutes 53 seconds on the European circuit, especially at Oslo's hallowed Dream Mile races.
In 1987, Spivey's progression kept on the upswing as he thrived under new coaches Ken Popejoy (1975 World ranked Miler and later top Masters Miler) and Mike Durkin (1976 Olympian / 1980 1500m Olympic team member), earned himself a 1500m bronze medal at the Rome World Championships behind Abdi Bile of Somalia.

1988, however, was a different story.
Continue reading at: runblogrun.com