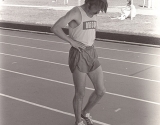 May 21, 2015
For them, Pre ran his workout Mile in 3:58.3 and coughed blood at the end. And then, his lungs gravely wounded, he found a bullhorn and thanked the people for their support.
By Jeff Johnson for Competitor
Although Steve Prefontaine continues to be widely remembered, idolized and celebrated 40...
Read More
comments