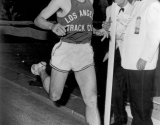 February 19, 1962
The starter's gun in Los Angeles sends off Jim Beatty on the fastest indoor Mile ever run. The field from the pole: Tabori, Beatty, Grelle, Close, Martin.
By Tex Maule, Sports Illustrated
Murray Halberg, an almost painfully thin New Zealander with cool light-blue eyes under pale bushy...
Read More
comments