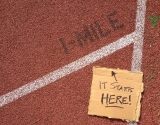 December 24, 2015
"The Mile joins the 100 meters and the marathon as the most approachable and exciting events to follow for those who aren't fans of the sport."
By Tony Casey, Johnson City Press
What's the difference between 1500 and 1609 meters on a track? A lot more than 109 meters.
Even though the Mile...
Read More
comments