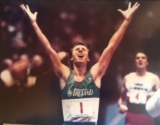 March 07, 1983
In the season finale, Eamonn Coghlan lowered his indoor Mile world record to 3:49.78: "All I could think of was my coach Gerry Farnan and my father. I was saying, hey, this is for you guys."
By Craig Neff, Sports Illustrated
Eamonn Coghlan lay in his New Jersey hotel room early last Sunday...
Read More
comments