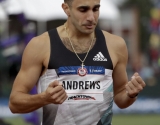 July 22, 2016
He was born here… as a pre-teen Andrews also spent plenty of summer hours literally running around Susan Wagner and New Dorp High Schools while his dad was one of the directors of the Big Apple Games.
By Cormac Gordon, SIlive.com
Robby Andrews is going to the Rio Olympics.
The 25-year-old...
Read More
comments