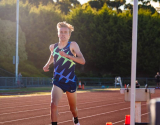 December 29, 2020
"I'm a Tasmanian. The North West coast is where I grew up so I want to come here and perform, and I'm happy I was able to do that this year."
By Jon Mulkeen for World Athletics, with assistance from Sean Whipp
Stewart McSweyn capped a memorable 2020 campaign with a lifetime best in the Mile...
Read More
comments