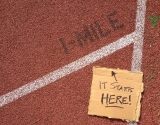 March 27, 2014
But the Mile doesn't care about my comfort zone.
By Susan Lacke, Competitor.com
Susan Lacke recently signed up for a Mile race — even though she's nervous about stepping out of her comfort zone.
The marathon is like a fine cognac—it's not something you imbibe in every day. On the special...
Read More
comments