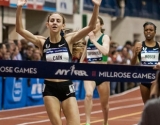 February 14, 2015
"I love the Mile. I feel that practically I'm a bit smarter in it, a lot more experienced. I also know that this is going to be a really fast race, a really good race."
By Paul Myerberg, USA TODAY Sports
NEW YORK — Like most college students, Mary Cain's class schedule as a freshman chemistry...
Read More
comments