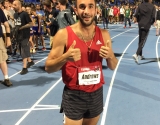 July 08, 2017
"I heard everyone screaming in my face and I just gunned it."
By Jeff Benjamin / Special to The Advance
Former Staten Islander Robby Andrews is going to London thanks to a little help from his friends!
At Thursday night's Tracktown USA Championship meet held in Icahn Stadium, Andrews, who...
Read More
comments