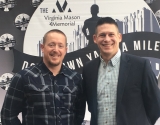 June 06, 2019
Second stop on BBTM Grand Prix Tour 2019 features more than $25,000 in prize money for its inaugural event: "We're going to put Yakima on the map!"
By David Monico, Bring Back the Mile
Build it and they will come. Thanks to Kevin Costner, it's as cliché as it gets in sports and business. For...
Read More
comments