2018 GNC Live Well Liberty Mile Attracts Its Deepest Field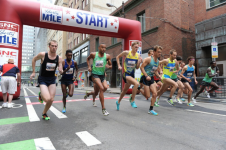 July 12, 2018
Six sub-4:30 minute women's Milers, 10 sub-4 minute men's Milers to compete for $25,000 Open purse with $5000 for each race champion on Friday evening, July 20 in downtown Pittsburgh; third stop on the BBTM Grand Prix Tour 2018
From P3R
PITTSBURGH – The GNC Live Well Liberty Mile on Friday evening, July 20 will host its deepest field to-date with 10 sub-4 minute men's Milers and six sub-4:30 minute women's Milers. The star-studded line-up, including 2016 U.S. Rio Olympian and two-time defending champion Ben Blankenship, will compete for one of the largest prize purses in U.S. road Mile races.
Now in its seventh year, Pittsburgh's fastest road race continues to attract the best American runners of all ages and abilities. This "night at the races" will feature six waves of runners starting with the recreational level and ending with professional athletes.
"We are proud to sponsor the Liberty Mile again this year and are thrilled that it continues to bring the community together and promote and encourage healthy lifestyles," said Ken Martindale, CEO of GNC. "At GNC, our focus every day is to provide products that help our customers Live Well, and we are pleased to be part of an event that promotes that in our city."
Blankenship, 29, will face tough competition from several sub-4 minute Milers this year, including fellow Minnesota native Will Leer, who won two USA Indoor Championship titles in 2013; Patrick Casey, the 2014 USA 1500m national runner-up; and Ford Palmer, who finished third overall in the Bring Back the Mile Grand Prix Tour 2016.
On the women's side, Amanda Eccleston, 28, who finished 4th at the 2016 U.S. Olympic Trials 1500m, headlines this year's women's field. Challenging Eccleston will be fellow Michigan native and training partner Shannon Osika, a 2016 U.S. Olympic Trials qualifier in the 1500m; Sarah Brown, a top U.S. Miler competing in her third GNC Live Well Liberty Mile; and Stephanie Brown, the runner-up in the Mile at the 2014 NCAA Indoor Championships.
See below for the full fields for the men's & women's divisions of the American Development Pro Mile presented by GNC Live Well.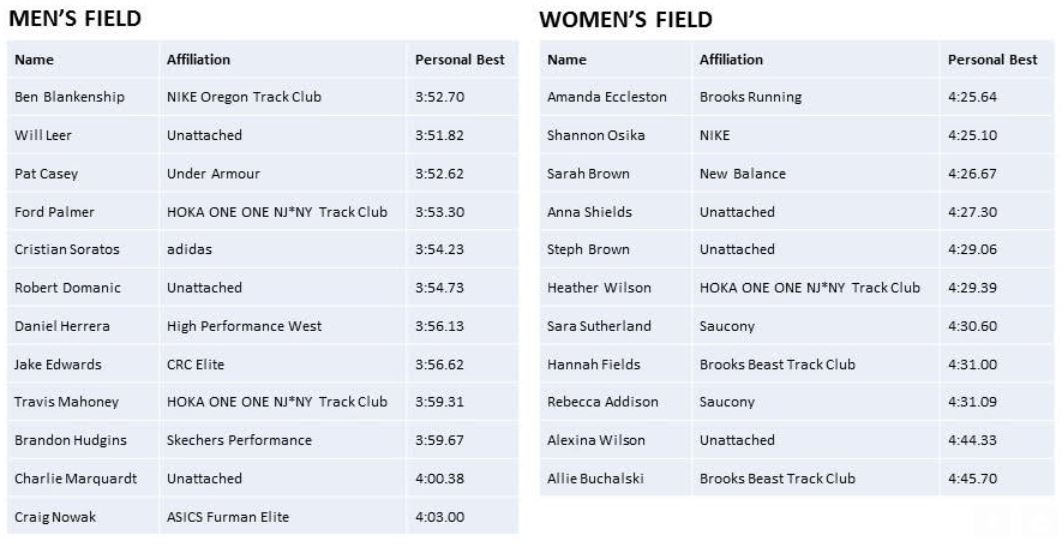 The American Development Pro Mile features $25,000 in guaranteed prize money – going seven deep per gender – with each race champion taking home $5000. Top six finishers will also earn points as part of the Bring Back the Mile Grand Prix Tour 2018, which awards the top four overall scorers $10,000 Grand Prix money at the end of the tour. The GNC Live Well Liberty Mile is the third stop on the national campaign to elevate & celebrate the iconic distance at five leading U.S. events across the country.
For more event information including course map, visit: LibertyMile.org