4 Minutes with a Miler: Brenda Martinez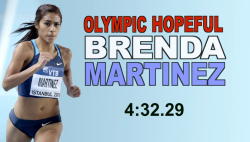 May 31, 2012
Bring Back the Mile's podcast series, 4 Minutes with a Miler, sits down with 2012 U.S. Open Mile Champion and 4:32.29 Miler, Brenda Martinez, coached by the legendary Joe Vigil. A UC Riverside grad, Martinez is a three-time NCAA All-American. The interview is hosted by Duncan Larkin with the audio available below and through the iTunes store, in addition to the complete transcript below.
Complete Transcript
Welcome to Bring Back the Mile's latest installment of 4 Minutes with a Miler. Today we are chatting with standout Miler Brenda Martinez. Brenda, thank you very much for joining us today.
Brenda Martinez: No, thank you. Thank you for calling.
The first question, Brenda, is that you have stated that your mom was a major influence in your running. Describe your relationship with her and how she's been a part of your life, running-wise.
So, my mom was always that person, you know, just that major influence—not only in my running but in my life. When it came to my running, she was always supportive. She was supportive with my sibling as well. She was very selfless and made sure that her children came first. I can definitely say that she has been a big impact in my life. I'm really fortunate to have a parent like her. For her to give me guidance: It means a lot to me.
You are now working with legendary coach Joe Vigil. How has he helped you become a better Miler?
You know, in a lot of ways, but not just the Mile. In a lot of ways, he's another person that is impactful. He's already taught me so much about running and the Mile. Just working with him this past year, he has helped me in a major way. I think about a year ago he started helping me. He saw that I was struggling and me and my coach called him, we were just asking for advice like, "How can you help us? Where can we go? I want to get better in my event" and the one thing he said that kind of struck out was he said, "I'm a coach and a man and if you are asking me for help, then I'm going to help you." It went from there. I've tried to adjust my training and all that. It's been going in a good way. My Mile time has progressively gotten better. I try to give him 100% every day—just the fact that he is helping me; I'm trying to be a better runner.
In the past, you said that would love to go running with Suzy Favor Hamilton. Why her?
I read her book and she is someone who has faced a lot of adversity. I just have so much respect for her; just reading about her, about so many USA titles. All that glory was taken away from her, because someone was cheating. She did it the hard and clean way. I would love to hear her story. If I had the chance to run with her then I would definitely like to hear about her life. It's definitely different reading the book from hearing it from someone's mouth, so I'd love to go do that.
So, back to you specifically about the Mile, what are your goals with the Mile? What do you want to accomplish with that distance?
My goals are pretty reasonable right now. I'm not looking to run anything crazy fast. If it happens, it happens, but me and coach kept it simple and kept it kind of reasonable. We think 4:25 for the Mile and 4:05 for the 1500m are kind of reasonable goals. If I end of getting those goals then we will readjust them. I'm focusing right now on what I can run right now, rather than later, but you never know. I can surprise myself.
What does the Mile mean to you? Why did you decide to compete at that distance?
It's kind of funny, because I have been running since I was five. I started out as a sprinter, but I was never good at it. My coach kind of put me in the middle distances. I've been running that event for about 18 years now, not that I'm comfortable with it, but it's always fun to challenge yourself. It's obviously fun when you are really fit and know how fast you can run in it.
You have enjoyed success at both the Indoor and Outdoor Mile. Which event do you like running better. Why?
You know, indoor is really fun. It's a small track with tight turns and all that. I do prefer outdoors, because there is more room. You don't have to deal with the tight turns and those tight IT bands. I don't train on an indoor track like a lot of people in the East, so I think doing it outdoors is always a good setup.
Well that's all the time we have for today's installment of 4 Minutes with a Miler. Brenda, thanks for your time and good luck to you this season.
Thank you again.