A Brief History of the Sub-4 Minute Mile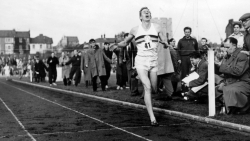 June 12, 2017
Another U.S. high schooler just went under four, which inspired us to trace the milestone's roots, starting with legend Roger Bannister
By Martin Fritz Huber, Outside Online
In early June, Reed Brown, a Texas high school senior, became the tenth U.S. high schooler in history to run the Mile in under 4 minutes. In so doing, he joined a once-exclusive club whose membership has doubled in the last two-plus years.
Once upon a time, the 4-minute Mile seemed as elusive as the 2-hour marathon barrier is now—particularly for a teenager. When Lukas Verzbicas accomplished the feat in 2011, he was only the fifth high school athlete to go sub-four since Jim Ryun first did it in 1965. Now, including Brown, five high schoolers have done it since 2015. (This is all the more astounding when you consider that not a single U.S. high schooler managed to break four from 1967 to 2001.)

And it's not just the kids who seem to be running faster these days. According to a Track & Field News list, 488 Americans had run a sub-4 minute Mile as of June 10, 2017, and 2016 was the year with the most new additions to the list (27), followed by 2015 (24), 2013 (23), and 2012 (also 23).
Continue reading at: www.outsideonline.com
U.S. high school sub-4 Mile listing HERE.