Bring Back the Mile Launches "4 Minutes with a Miler"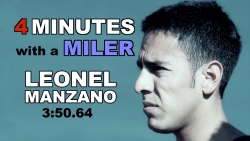 March 21, 2012
New podcast series kicks off with U.S. Olympian Leo Manzano
SANTA BARBARA, Calif. – (March 22, 2012) – Bring Back the Mile's new podcast series, 4 Minutes with a Miler, launches today featuring 2008 U.S. Olympian and 3:50.64 Miler, Leo Manzano. A unique format, 4 Minutes with a Miler will share the stories and insights of top American Milers, past and present, with the public.
BBTM's Duncan Larkin sat down with Manzano, who recently took home the USA Indoor 1500 meter title, to discuss what the Mile means to him and what it was like to break 4 minutes for the first time. Manzano also spoke about the upcoming Manzano Mile in Austin, Texas, an all-comers track meet for all ages, including the FloTrack "BIG TEX" High School Miles, an Open Women's Mile and the Pace Sports Management Golden Mile showcasing the elites.

"Our 4 Minutes with a Miler series is a way for the public to get to know the nation's top Milers," said Ryan Lamppa, Bring Back the Mile Founder. "With this original podcast series, we want to elevate and celebrate our Milers as well as entertain our listeners."

At bringbackthemile.com, there is the complete podcast and transcript, in addition to its availability through YouTube and Apple's iTunes Store.

The Mile holds a special place in Track & Field and beyond because no running distance, or field event for that matter, has the history, the appeal, the "magic" of the Mile. The first sub-4 minute mile by Great Britain's Roger Bannister in 1954 is regarded as the greatest individual athletic achievement of the 20th century, and no other event has produced an equivalent of the sub-4 minute Mile standard in the sport, in the media and in the public's mind.

Unfortunately, the Mile has lost some of its luster over the past decade, and the Bring Back the Mile mission is: To return the Mile to prominence on the American sports and cultural landscape by elevating and celebrating the Mile to create a national movement. Join us!

Visit www.bringbackthemile.com or contact media@bringbackthemile.com for more information.