Cory Leslie Wins Glenn Cunningham Mile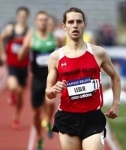 April 21, 2013
By Christopher Graber, The Morning Journal
LAWRENCE, Kan. — Cory Leslie, a 2008 Perkins graduate, was selected as one of 12 elite distance runners in the U.S. to compete in the Glenn Cunningham Mile at the 86th Kansas Relays on Saturday, April 20.
His father and high school distance coach Paul Leslie said that just to be invited was a big deal.
Leo Manzano, the silver medalist in the 1500 for the U.S. at the London Olympics, was supposed to be the highlight of the race.
Nick Symmonds, a two-time Olympian and six-time U.S. champion in the 800, was also among the competitors.
After developing a race plan for the Mile with coach Robert Gary, a two-time Olympian in the 3000m steeplechase, Cory Leslie garnered the lead following the first lap en route to claiming victory with a performance of 3 minutes, 58.18 seconds.
Continue reading at: morningjournal.com