Craig Engels looks ahead post-NOP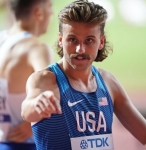 October 27, 2019
"If I'm going to do this sport, I want to enjoy my life and enjoy the people in the sport and everything about it."
By Sarah Lorge Butler, Runner's World
An elite runner with a reputation as a fun-loving guy has had some serious matters to attend to during his offseason.
Since he finished 10th in the World Championships 1500 meter final on October 6, Craig Engels has been traveling and "partying," but it hasn't been all fun and games. His first order of business: securing a training situation for the future.
That became more clear on Wednesday.
Seven athletes who ran for the Nike Oregon Project (NOP) will continue to train together in a new group led by former NOP assistant coach Pete Julian.
Nike announced it was shutting down the NOP on October 10 after the group's head coach, Alberto Salazar, was suspended for four years for anti-doping violations.
In addition to Engels, the new group will include U.S. runners Donavan Brazier, who holds the American record in the 800 meters, Shannon Rowbury and Eric Jenkins, as well as Konstanze Klosterhalfen of Germany, who won bronze in the 5000 meters at Worlds, Suguru Osako of Japan, and Jessica Hull of Australia. Those seven runners were training primarily under Julian before Salazar's ban.
Julian, 48, announced the news of the new group in an Instagram post on October 21, his first and only post on the social media platform. In it, he said the group does not yet have a name. He left open the possibility for "perhaps even a few more athletes in the future."
In an interview with Runner's World, Engels, 25, said that continuing to work with Julian had been his first choice since September 30, the day Salazar's ban was announced during the world championships in Doha, Qatar.
"Since the day the news came out, me and Pete have talked and I was going to stay with him no matter what," Engels said. "We're definitely staying together, and the whole team was staying together the whole time."
Continue reading at: runnersworld.com