Diane Leather, first woman sub-5 minutes for the Mile, passes away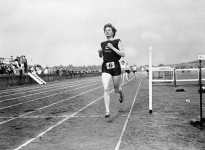 September 08, 2018
Legend, 1960 Olympian & record setter a pioneer of women's running
By Peter Thompson
The world of Athletics is deeply saddened by the news that Diane Leather Charles, the first woman to run a Mile in under 5 minutes and a true running pioneer, passed peacefully on Wednesday, September 5. As her family reports, "She was 85 years young and still very active right up to mid-August, when she succumbed to a short illness."
Diane Leather is probably the best British athlete you may never have heard of. And, if you have heard of her, you may not be fully aware of just how great was her talent and achievement over such a range of distances, a "runner complete & extraordinaire". In today's age, women have the stage available to showcase the range of their talents but this was denied Diane Leather.
Over a three-year time period from 1953 to 1955, Leather improved the women's world best for the Mile on an unprecedented five occasions and by a total of 23 seconds, taking it from 5:08.0 to 4:45.0, a time that remained unbroken for 7 years.
Her relatively brief career saw her also equal the world best for 440 yards and set world best performances for 1500 meters twice and was the first woman to run under 4:30.0. At that time, these performances were all classified as world best performances, rather than world records, as the only women's individual middle distances recognized by the IAAF were the 800m and 880 yards and Diane held the IAAF world record for 800m.
But, she also excelled over the country and won the England National Cross Country Championships for four consecutive years from 1953 to 1956 and claimed individual and team gold in the International Cross Country Championships on three occasions, 1954-55 and 1957. We can think of many athletes who have a great range of distances but what other athlete can claim such truly world record level performances from sprinting 400m to racing Cross Country?
It was Saturday, May 29, 1954, and the Midland Area Championships were conducted on a rain-soaked cinder track at Alexander Stadium, Birmingham. The Mile was held just 45 minutes after the 880 yards, which Diane won, establishing a British Record. As the starter's pistol sounded, the runners set off but it took only a couple of hundred yards before a tall, elegant runner moved fluidly to the front of the field and assumed an ever-increasing lead and Diane Leather had once again placed the Mile world record under threat.
Diane Leather was simply miles ahead of other runners in terms of her development and potential, and raced without the company of opponents or pacemakers but with the wisdom of her potential. By the end of this Mile, Diane was 160 yards ahead of the second place finisher and broke the tape in a time of 4:59.6, becoming the first female runner to complete a Mile in under 5 minutes. This barrier was broken just 23 days after countryman Roger Bannister had famously broken the 4-minute barrier in nearby Oxford.
Diane Leather was born on January, 7, 1933 in Streetly, Staffordshire. She took up running at the relatively late age of 19 after leaving school and being inspired to run by watching the 1952 Helsinki Olympic Games. She joined Birchfield Harriers in the autumn of that year (1952) where she started training for the winter events under the coaching eye of Dorette Nelson-Neal.
At Birchfield Harriers, Diane immediately impressed as a versatile runner, winning the Midland Cross Country Championships and then the England National Cross Country Junior and Senior titles in her first winter with the club. In the Spring of 1953, Diane was a 20-year-old newcomer to the track. But her inaugural excursions onto the cinder tracks denied that 'newcomer' tag and produced her first record-breaking exploits. By the end of this year she had developed as a front-running middle distance runner unchallenged in the domestic scene.
She also 'found' the Mile, and in such an emphatic way, running a world best and English native record of 5:02.6 at the end of September. This time represented an almost 6-seconds improvement over the previous world best of 5:08.0 by Britain's Anne Oliver. But, Diane's time of 5:02.6 didn't survive long, being lowered two months later by Edith Treybal of Romania, who clocked 5:00.3 and the prospect of 1954 becoming a race to be the first woman to break 5 minutes for the Mile perhaps became a focus.
The summer of 1954 was only her second track season but it was an intensive and memorable time for the young woman from Staffordshire. On May 26, she regained the world best performance by lowering her own British Mile record to 5:00.2. A mere three days later, on May 29, as we described earlier, she improved this Mile mark and won the race for women to break the 5-minute barrier with her 4:59.6, a world best.
Three weeks later, on June 19, she recorded her only individual world record, officially recognized by the IAAF, an 800m of 2:09.0. In fact she was being timed over 880 yards in this race and this time was accepted by the international governing body for the shorter metric distance, where no separate time-keepers had been provided.
In 1955, Diane improved her world best in the Mile twice. In London on May 24, she ran 4:50.8 and then, in the early autumn, achieved a further improvement. This is best described in the manner of the era, by quoting from the caption under her photograph on the cover of the October edition of the London Illustrated News: "In an athletics meeting at the White City on September 21, in which representatives from the U.S. and seven Continental countries also competed. Miss Diane Leather, of Birchfield Harriers, won the women's Mile by some 100 yards in 4 min. 45 sec. The International Federation do not recognize this distance in women's athletics events, but Miss Leather's time is likely to remain the best for this distance for some time. While making it she beat her own previous best time by 5.8 seconds, despite the fact that she took the lead at 600 yards and after that was running alone and without any challenger. As a runner Miss Leather is always a pleasure to watch and she finished without a trace of flagging, breathing easily and quite undistressed."
She finally gained her opportunity to run at the 1960 Olympic Games in Rome, as Mrs. Diane Charles but it was only over the 800m and she was eliminated in the first round, finishing fifth in her heat in 2:14.24. Her glory years had sadly passed and had records been different, she would have had more 'officially' than most all others in British athletics history. In a more enlightened era, her name would have been prominent among the world record holders and, probably, as an Olympic multi-gold medalist.
After retiring from competitive athletics at the age of 27, Diane Charles went on to teach, perform social work and raise four children. For nearly 30 years, she served CRUSE, the leading national charity for bereaved people in England, Wales and Northern Ireland that offers support, advice and information to children, young people and adults when someone dies and works to enhance society's care of bereaved people. Diane volunteered both locally and nationally and was a member of the National Council of CRUSE. In 2013, she was inducted into the England Athletics Hall of Fame and her true abilities, achievements and influence on women's running are continuing to be more fully and widely appreciated.