Gabriele Grunewald Pre-World Indoors Interview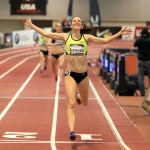 March 04, 2014
"Even though a 'kicker's' race would be good for me, I also think I'm in shape to PR in the 3000m."
By Christopher Kelsall, Athletics Illustrated
Gabriele Grunewald, better known as GG or Gabe, is an American middle-distance runner from small town Minnesota or Perham, MN to be exact. A graduate of the University of Minnesota, she currently runs as a professional athlete for Brooks as well as Team USA Minnesota.
Grunewald (right, PhotoRun.net) was a three-time NCAA Cross Country Championships competitor for the U of M Gophers, and was second team All-Big Ten in cross country during both the 2007 and 2008 seasons. On the track, Grunewald closed out her Gopher career with a runner-up finish in the 1500m at the 2010 NCAA Outdoor Championships and also earned a second place finish in both the 800m and 1500m at the 2010 Big Ten Outdoor Championships.
More recently she placed fourth at the 2012 U.S. Olympic Trials in the 1500 meters. At the 2014 USA Indoor Track & Field Championships, she won by a large margin, by unleashing a devastating finishing kick, after the race was taken out at a very pedestrian pace. She was temporarily disqualified for making contact with another athlete (Jordan Hasay) however, was reinstated. Grunewald, for the first time in her career will represent Team USA at the IAAF World Indoor Championships, which take place from March 7 - 9 in Sopot, Poland.
The 27-year-old has twice defeated cancer.
Continue reading at: http://athleticsillustrated.com