Going Head to Head: Who is the Greatest Miler in History?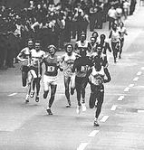 September 20, 2012
By Barbara Huebner, NYRR News
Some of the greatest Milers in the world have won the Fifth Avenue Mile presented by Nissan, which will be run for the 32nd time on Saturday. Sydney Maree, Steve Scott, Mary Slaney, John Walker, Peter Elliott and Bernard Lagat are among those who have broken the tape on one of the most famous avenues on the planet. Where do they stand in a hallowed history at the distance that includes Roger Bannister, Jim Ryun, Glenn Cunningham, Francie Larrieu, Sebastian Coe, Said Aouita and Hicham El Guerrouj? And how does one measure greatness? We've asked Neil Amdur, former sports editor of the New York Times, and Neil Wilson, a longtime top athletics writer in Great Britain, to sort things out.
Neil Amdur: Interesting debate, with lots of wonderful characters and competitors. It is also complicated by the notion of whether simply running faster makes you "the greatest" and where you place such standard-bearers as Roger Bannister and John Landy. That's why, before we simply put a crown on Hicham El Guerrouj, the world record holder who was known as the "King of the Mile," and crown him "The Greatest," I would have to throw this intellectual teaser into the equation: If you could pick one Miler to win one race, who would it be? And while I am tempted to simply throw up my hands and say that El Guerrouj's numbers, titles and career dominance are simply too imposing to ignore, my choice to win a so-called all-time Dream Mile, believe it or not, would be Kipchoge Keino of Kenya, the 1968 Olympic 1500 meter champion who also won a gold medal in the 3000 meter steeplechase in Munich and silver medals in the 5000 (1968) and 1500 (1972).
I say this knowing full well that Keino's career-best 1500 and Mile times don't come close to those of El Guerrouj or even of his countryman Noah Ngeny. But my instincts tell me that for a race in which running to win was the primary objective, and not running for records or time, Keino would / could not only control the tempo but also have the physical and mental strength to win. I will have more to say about Keino and others as we head into the backstretch of this discussion. Does that make him "the greatest Miler of all time"? Would he be my first pick in a fantasy Miler draft? And where are two other Mile legends, Sebastian Coe and Jim Ryun, on the list? I welcome all comers to this race of sorts knowing full well that I may be hissed off the track.
Neil Wilson: My career as a full-time track writer began in 1979, so it is natural that I am inclined toward Seb Coe. I saw his first world record and most of the others, but I agree with Neil: The quickest is rarely the best. Pacemakers distort, which is why I could not be persuaded by the case of Roger Bannister. When it mattered at an Olympics, he did not win. Coe did, twice, and in the first of those beat Steve Ovett, who came into the Games on a long winning streak. Keino did not specialize in the Mile and won his Olympic gold with high altitude in his favor. So Coe, unless you can persuade me against my natural inclination.
NA: I would certainly put Seb Coe in my top three, and you make a convincing countryman's plea for putting him at the top. Not having seen him run and win as often as you did (but respecting him immensely as both a tenacious competitor and a first-class individual), I can't speak from as much authority. But he was a winner then, and his performance in directing the 2012 London Olympics to a rousing success is another example of his championship pedigree. Yet both Moscow and Los Angeles, sites of Coe's gold medal efforts, were marred by boycotts, although his 3:32.53 in Los Angeles certainly rivals Keino's 3:34.91 at altitude in Mexico City, and Coe's 800m world record survived the test of time. Keino's margin over Jim Ryun, then the world's premier Miler, in Mexico City was attributed more to altitude than sheer talent. But in Munich, while Ryun fell in an earlier heat and was eliminated, Keino lost a closely contested 1500 final to Pekka Vasala of Finland and settled for silver. Yet something tells me that we never truly appreciated all that Keino achieved because he did not win his gold medal until age 28, was not a record-chaser, and had to achieve so much on his own in leading Africa's middle-distance emergence.
Interestingly, neither of us is embracing some of the later African heroes to the Mile scene. What does that say about either the state of the sport then and now—given our respect for Coe and Keino—and/or the notion that somehow later times may have been influenced by other less desirable factors? It is some of these factors that have caused me to treat our discussion of an all-time women's Miler with some caution.
NW: Ryun was a legend in the United States, but not elsewhere. He did not, as you acknowledge, win when it mattered at championships. I would place John Walker ahead of him, not only because he ran faster but also because he won Olympic gold and ran sub-4 more often than any contemporary but Steve Scott, who still holds the record. On the Olympic situation in 1980, I would say that Coe beat the best of his contemporaries in Ovett. We must not forget El Guerrouj, but he fell at his initial Games.
NA: It's interesting to contrast the times in the Mile / 1500 with those in the men's marathon, where improvements continue as competition intensifies. Since El Guerrouj ran 3:43.13 in Rome in 1999, quality world Mile and 1500 times have gone static among the men. And among the women, the times are even worse: this year, the fastest Mile time, according to Track & Field News, is a 4:26.76 by Brenda Martinez of the United States. That's 14 seconds slower than Svetlana Masterkova's record 4:12.56 world record in 1996. 1996! Even if you discount that the Mile is being contested less often on a national and world level, it's still startling. Among the men, it's only about a 6-second disparity.
Has middle-distance running on the track given way to road racing's more attractive dollar lure? I know we're supposed to pick the all-time women's Miler. But as I scan my memory bank, through Zola Budd, Mary Decker and Tatyana Kazankina, who ran a 3:52.47 1500m in 1980, I'm at a loss to say who I would put at the top of my list. In almost no other category in track & field would I feel so inhibited, and I think it says something about the state of the sport. There is no shortage of heroines in the women's marathon, from Joan Benoit Samuelson and Grete Waitz to Tegla Loroupe, Paula Radcliffe, and any number of Ethiopians. Why do I feel so hamstrung about female Milers? And even when I see that 3:52.46 in the 1500 by Yunxia Qu of China in 1993, I feel uncomfortable with all the allegations that followed China' distance running scandals. Am I thinking too narrowly?
NW: Mile races are rare now, and particularly women's Mile races, that the static nature of the event is not surprising. In the UK there is one each year during a Diamond League meet that brings together some class runners, but not the very best. So it is rare now for 3:50 to be approached, as it was regularly in the 1980s. Miles were always put on in Oslo and Zurich in those days, possibly to appeal to U.S. and UK TV audiences, but rarely now. So I would hope the decline in times is because of the rarity rather than stricter doping control, although in the women's event I fear that the reverse may be the case.
Men of our generation would like to think our heroes were honest men. I remember with great affection a lunch I attended in 1994 to celebrate the 40th anniversary of the first sub-4 minute Mile when all world record holders since Arne Andersson were present except Steve Ovett, and the youngest record holder among them, Noureddine Morceli of Algeria, went around the tables collecting the autographs of his predecessors. There was a man in love with the event and its history.