Here are the chances Colorado's track & field athletes have of winning medals in Rio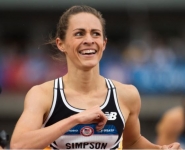 July 12, 2016
Jenny Simpson (1500 meters), Emma Coburn (3000m steeplechase) best hopes for Olympic podium
By Daniel Petty, Denver Post
EUGENE, Ore. — Nine athletes with Colorado connections will represent the United States on the Olympic track & field team in Rio next month, with serious contenders to medal among that group.
Jenny Simpson and Emma Coburn, both of whom live in Boulder and train with University of Colorado coaches Mark Wetmore and Heather Burroughs, are the two best hopes to medal.
Simpson has already raced impressively in international competition at the 1500 meters, having won gold at the World Championships in Daegu, South Korea, in 2011 and then silver in 2013. But she has not translated that into Olympic success. She didn't make the final of the event in London four years ago, but insists this year is different.
"Now I have a month of really hard training," Simpson said. "If you make the Olympic Games, this is the first three of six rounds."
Simpson's season best of 4:01.57 makes her the #7 performer in the world, behind a handful of Kenyans and Ethiopians.
Continue reading at: www.denverpost.com