HOKA ONE ONE State Street Mile Ready to Run on Sunday, June 5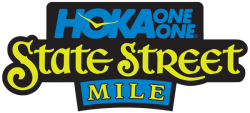 May 21, 2016
17th event edition adds inaugural Nobbe Amputee Mile and Finish Line Festival; race proceeds go to District Attorney's Crime Victim Emergency Fund
SANTA BARBARA, Calif. – The HOKA ONE ONE State Street Mile on Sunday, June 5 is ready to welcome 1,000-plus milers expected at the Santa Barbara running tradition. New this year for the 17th event edition are the inaugural Nobbe Amputee Mile and a Finish Line Festival. The event features a gradual downhill, point-to-point course in beautiful downtown Santa Barbara.
"This year's HOKA ONE ONE State Street Mile should be our best edition yet with mile races for people of all ages and abilities and our always crowd-pleasing Dog Mile. Plus come celebrate with friends and family at our inaugural Finish Line Festival with music, a breakfast burrito, bounce house and face painting," said race director Megan Rheinschild.
Last year, Jorge Jabaz of Anaheim and Tracee van der Wyk of Temple City, Calif. won the elite mile races, clocking 3 minutes, 54 seconds and 4:33 respectively. Van der Wyk also tied the women's course record. At the 2013 event, Michael Coe, from Oakland, ran 3:49 to set the current men's course record, also the fastest mile recorded in California.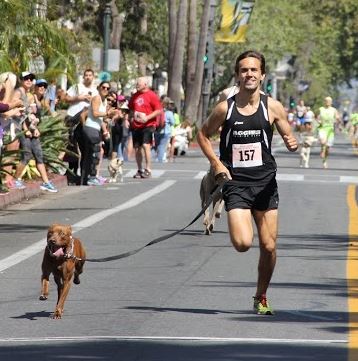 Also last year, the fastest Dog Mile ever was produced by San Luis Obispo's Josh Helton & his dog Bro (pitbull and lab mix) who together crushed the course record of 4:22 by Matt Johnsrud & Charlie in 2008 with an amazing 4:15 performance (photo, left). Second human & dog were also under the old mark with their 4:19.
Race day 2016 kicks off at 8:00am with nine age group categories (10 & under, 11-14, 15-19, 20-29, 30-39, 40-49, 50-59, 60-69 and 70-plus) followed by the popular Family Mile, inaugural Nobbe Amputee Mile, the Masters & Elite Miles, and capped off with the not to be missed, tail wagging fun, Platinum Performance Dog Mile, the unofficial world championship.
An event record guaranteed prize purse of $6700 will be awarded (Open and Masters 40-plus age-graded) plus $1000 for Open course records (3:49 – men and 4:33 – women) and new this year: a $1000 prize purse for the Nobbe Amputee Mile (above and below the knee divisions with cash prizes to the top 3 finishers in each category). The State Street Mile is once again part of the local SBAA Grand Prix and Junior Grand Prix Series.
Event Registration & Packet Pickup
Online registration will remain open until Thursday, June 2 at 11:59pm PST (go to: www.sbmile.com). On Saturday, June 4, there will be event registration and bib number pick-up available at Santa Barbara Running Company from 11:00am to 4:00pm (downtown, 110 Anacapa Street). Also at 7:00am race day, bib number pick-up and registration starts at Pedregosa and State Streets in Santa Barbara. The race finishes at State and De La Guerra Streets.
All proceeds go directly to the District Attorney's Victim-Witness Assistance Program's Crime Victim Emergency Fund.
About the State Street Mile
The 17th HOKA ONE ONE State Street Mile, featuring a gradual downhill, point-to-point course, is also a Bring Back the Mile Featured Event, showcasing the best Miles in America and throughout the year.
To register or for more information, go to: www.sbmile.com